18. May 2016
Curry Always is a Good Idea
What to do when the mopishness rules the day? When every movement in the kitchen seems like an impossible task? What to do when you want to seize the few precious beams of sunlight between the heavy clouds, to spend the golden evening outside?
Curry often is the solution. Curry, that is so easy to make, that you only have to cut onions and throw everything into a pot. Curry, that pampers your soul with happiness and warms up the colds fingers, but also refreshens wonderfully. Curry, that welcomes you with its yellow colour and transforms the place into an aromatic paradise—and that even tastes deliciously.
To make it typical Indian we put in goat. If you've got difficulties with finding some you can also use lamb or young sheep. The long and gentle cooking process makes the meat so tender that it will melt on your palate…who'd like vegan when you could have this?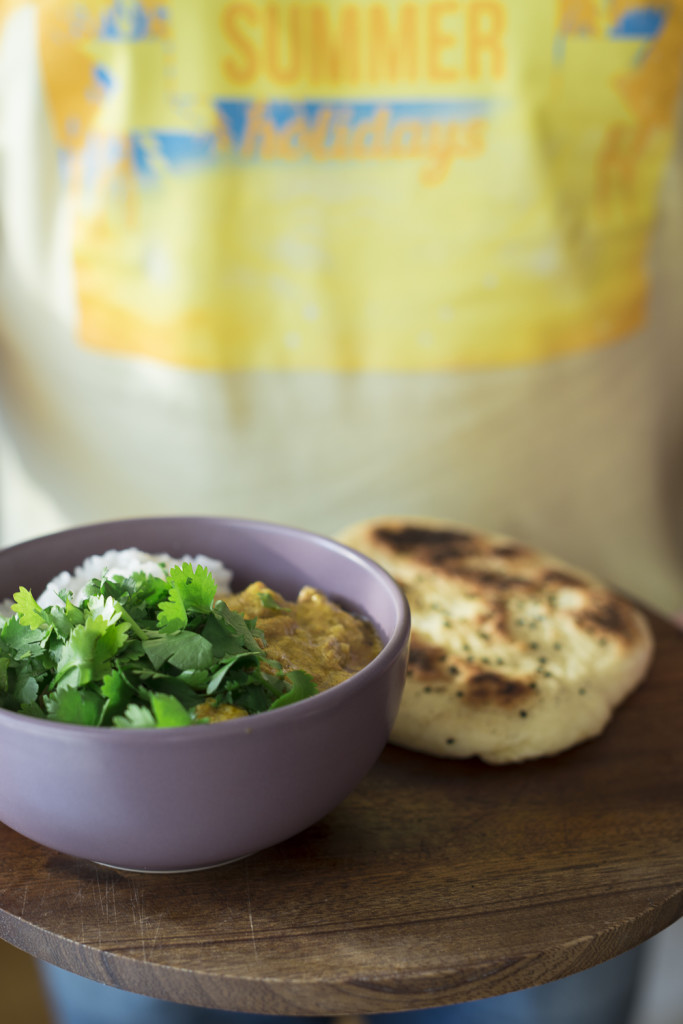 Kossha Mangsho – Goat Curry with Yoghurt
Ingredients for 2 portions
after a recipe from "India" by Pushpesh Pant
For the marinade:
150 g natural yoghurt

1 tbsp oil

2 tsp sugar

1/2 tsp chili powder

1/2 tsp ground turmeric
For the curry:
500 g goat meat, cut into small chunks, alternatively lamb

60 ml oil

1 big onion, but into rings

1 tbsp freshly grated ginger

1 tsp freshly grated garlic

1/2 tsp chili powder

1 tsp ground turmeric

1 tsp freshly ground cardamom

250 g natural yoghurt

500 ml water
Additionally:
Mix all the ingredients for the marinade in a bowl, add the meat and cover it to let it rest in the fridge for at least 1 hour.
Heat up the oil in a pot and sizzle the onion rings on medium heat. Stir in the ginger and garlic and after a minute add the meat, including the marinade, and all the other ingredients for the curry. Bring it to a boil, cover the pot with a lid, and let everything cook for 90 minutes on low to medium heat. It should bubble in the pot, but not too strongly. When the sauce is creamy and has reduced a bit taste with salt (start with half a teaspoon or so). Refine with some fresh coriander and serve with some freshly steamed rice or naan bread.
Naan Bread
Ingredients for 4 small breads
25 g unsalted butter

130 g wheat flour

65 ml water

5 g fresh yeast

1 tsp runny honey or sugar

1/2 tsp salt

60 g natural yoghurt
Melt the butter. Take away 1 tbsp and mix that with all the other ingredients into a smooth dough. It should be sticky and slightly moist. Knead in more water or flour if you think you need some. Cover the dough and let it rest for 1-2 hours, until it had approximately doubled in its size.
Knead the dough once more and divide into 4 pieces. Form them to balls and roll them out, until they are about 3 mm thick. Heat up a pan on medium heat. Add 1/4 of the rest of the melted butter, add one of the dough slices and bake on every side for about 2 minutes. Proceed with the other three breads in the same way. If you like you can sprinkle the freshly flipped over bread in the pan with some cumin and/or nigella seeds.