26. October 2015
Fried Mackerel with Egg on Rice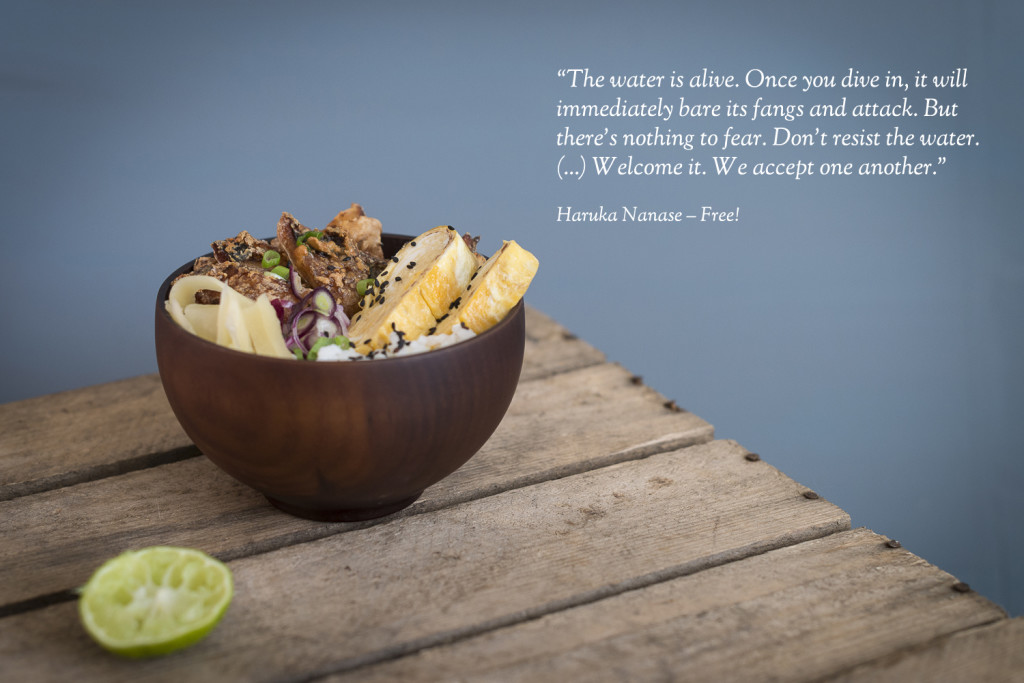 Under water the world is silent. The sun casts its beams through the ever changing surface that cheerfully dance on the ground. They call out to us, wanting us to join them. The blue of the water, sometimes grey as steel and hazy, sometimes turquoise and bright, allures us to dive in. Sometimes I dream about the lively roaring sea with its waves. But tamed, I have to admit, I prefer it for swimming: In the pool, with solid ground under my feet and an envious eye on the well-trained swimmers around me. I swim my laps, duck under and feel connected to the water – a place where I've always felt at home. No wonder, that I fell in love with an anime series about swimming a while ago. And in honor of Free! I'll be cooking mackerel today – the main character Haruka Nanase's most favourite food.
The mackerel is a somewhat inconspicuous fish, but actually with a gorgeous patterning in all shades of blue and silvery grey. We should eat it much more often and stay away from creamy salmon and firm tuna from time to time. Mackerel has a much more "fish-like" taste and a very unique flavor that is easily tamed by spring onions and ginger. And it is so easily prepared, that it is almost too simple: Just cut in chunks, marinated and fried it is a delight and perfect for another one of my beloved "donburi" – bowls of rice with "stuff on top".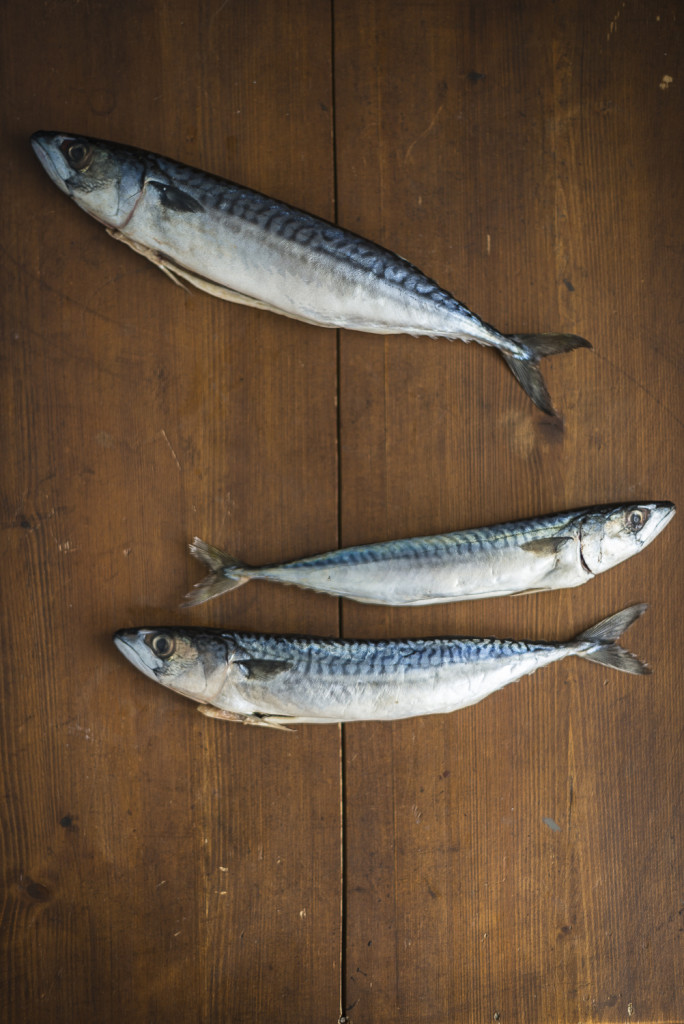 "Saba Tamagoyaki Don" – Fried Mackerel with Egg on Rice
Inspired by Free! and Free! Eternal Summer
Ingredients for 2 portions
For the fried mackerel:
2-3 mackerel filets
1 tbsp soy sauce
1 tbsp sake or sherry
1/2 tbsp mirin
2 tbsp potato starch
500-1000 ml oil for frying
For the tamagoyaki:
3 medium sized eggs
1-2 tsp soy sauce
1 tsp mirin
some oil
Additionally:
freshly steamed sushi rice
chopped spring onion, gari, lime juice and/or sesame for garnish
Wash the mackerel filets and remove remaining bones. You might probably find them running alongside the middle of the filets and some might also stick in the top part. Cut the fish into bite-sized chunks and mix them with the soy sauce, sake, and mirin. Let them rest in the frigde for at least 30 minutes.
Meanwhile prepare the tamagoyaki (Japanese omelette): Mix up the eggs with the soy sauce and the mirin. Put a tamagoyaki pan on high heat (any regular pan will work too, but it is best with a rectangular pan), add a thin layer of oil and pour in about one quarter of the egg mixture. As soon as the top surface of the egg starts to turn solid, roll up the omelette by flapping it over for 3 times or so. Push it to one side of the pan, add another thin layer of oil and pour in the second quarter of egg. Shortly lift up the egg roll from before so egg can spread under that too and as soon as the surface starts to turn solid again flip and roll up the roll again. Repeat until all the egg mixture is used up and you have a nice egg roll in the pan. Making tamagoyaki is a very quick process – you shouldn't need more than 10 minutes for everything. Remove the pan from the stove and flip the tamagoyaki onto a bamboo mat. Roll it up to wrap the egg roll in it and set aside.
Get the fish out of the fridge and let it drain. Roll the fish chinks in the potato starch so that they are covered all around and let them reach room temperature. Pour the frying oil in a pot and heat up to 170°C. Carefully let the fish chunks slip into the hot oil and fry them for 2-3 minutes until they are golden-brown and crunchy. Don't crowd the fish pieces in the oil. If necessary work in batches. Let them drain on a kitchen towel.
Fill two serving bowls with rice and top it with the mackerel. Unwrap the tamagoyaki, cut in into short pieces and divide them onto the bowls. Quickly serve it with some gari, chopped spring onions, sesame and lime juice.