21. October 2015
A Little Bit of Wellness for the Soul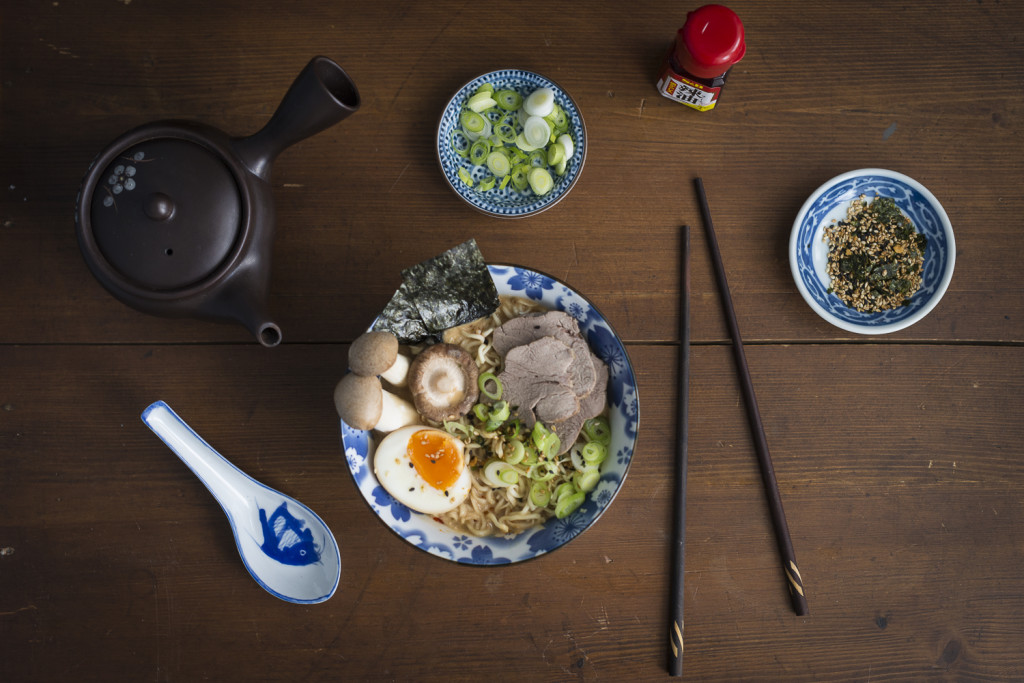 A good noodle soup is a treat: It makes you warm, saturates and it is filled with delicious ingredients. A really good noodle soup is far better though… a little bit of wellness for the soul. It is pleasing to the eye and has been cooked with love – with commitment and a lot of time spent already on the broth itself. It really makes you sigh out of pure happiness. The Japanese have made an art form out of their soup and maybe some day I will be able to go there… to go into a tiny little noodle bar to sit at the counter and order my first "real Japanese Ramen soup". Until then I'll have to try every other noodle bar with a good reputation (this one for example) to educate my palate and take everything I've learned back home. There I will try my best to make a soup of my own.
This recipe has been the best result since a long time: A ramen soup with an "own" miso mixture, broth-poached fillet of pork, mushrooms and egg. The soup is completed with a dash of soy milk, a small but effective trick I've come across on lovely Mandy's blog. The miso mix is inprired by her recipe, too.
The spicy miso with sesame makes the soup wonderfully creamy and adds a nice fragrance of sesame, ginger, garlic and chili. The mild-flavoured prok loin indulges us with proteins, the mushrooms add a nice freshness, the egg makes it perfect and the nori finally reminds us of beautiful days at the sea. Don't be put off by the long list of ingredients: Most of it is spices and except of a little time the soup itself just needs simple attention. But it's definitely worth it!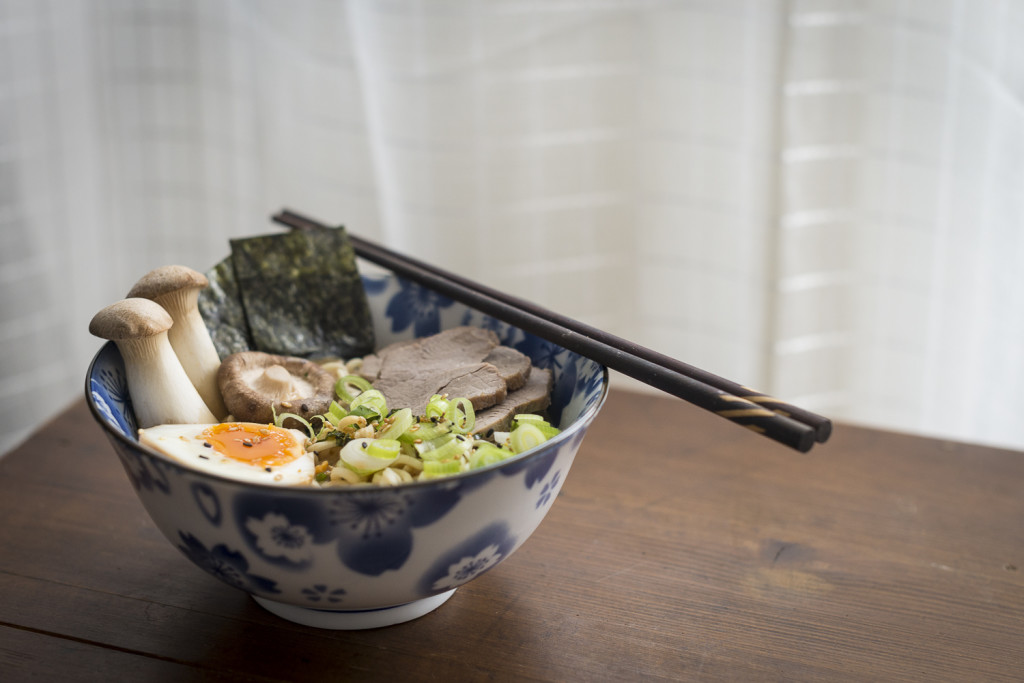 Ramen Soup with Miso, Fillet of Pork, Mushrooms, Nori and Shoyu Tamago
Ingredients for 2 big bowls
Miso mix:
2 cloves of garlic

30 g ginger

10 g chili paste

30 g sesame

3 tbsp mirin

1 tbsp sesame oil

2 tbsp oil for frying

130 g red miso

130 g white or yellow miso
Soy sauce eggs ("Shoyu Tamago"):
1-2 eggs
3 tbsp soy sauce
3 tbsp mirin
1 tbsp sake or sherry
1 tbsp sugar
Broth-poached fillet of pork:
200 g fillet of pork

1 tbsp oil

500-600 ml good, unsalted chicken broth (the homemade one is always the best choice)

1/2 spring onion

1 peanut-sized piece of ginger
Ramen soup:
the leftover broth from the poached fillet of pork (see above) – about 500 ml 

160 ml miso mix
100-150 ml soy milk
2 portions Japanese soup noodles (ideally ramen)

1/2 spring onions 

1/2 sheet of nori

a few small mushrooms (like shiitake)
Additionally:
a few drops of sesame oil
a few drops of chili oil
sesame
Peel the ginger and garlic for the miso mix and add them to all the other ingredients in a bowl. Mix thoroughly with a hand blender, fill it into an airtight glass jar and store it in the fridge. You can let it stay there for a few weeks until you use it up.
For the shoyu eggs boil the eggs until they are soft (I always put them in boiling water and let them stay in there for exactly 7 minutes), then put them in ice water and let them cool down completely. Peel them carefully. Mix soy sauce, mirin, sake and sugar and let the eggs marinate in that mixture for 2-3 hours.
Heat up a small casserole, pour in the oil. Fry the fillet of pork shortly on each side, then add the broth and the spring onion in one piece. Cut the ginger into slices and add to the pot. Heat the broth until it almost boils, skim off the foam that may rise to the surface and let the broth gently simmer at medium temperature for 30 minutes. Turn the meat after 15 minutes so it doesn't dry out on one side. Get the pork out of the pot and strain the broth through a sieve – then pour the broth back into the pot. You will need it for the soup itself.
Add the right amount of miso mix to the broth and resolve it in there. A miso sieve or a ladle helps with that. In an extra pot cook the noodles according to the instructions on the package and strain through a sieve. Devide them into two soup bowls. Meanwhile bring the soup to a boil but don't let it cook for too long.
Chop the spring onion into rings. Cut the pork into thin slices. Pour the hot soup over the noodles in the bowls. Garnisch with the remaining ingredients. Serve hot with a few drops of sesame and chili oil and a few sprinkles of sesame.